Using Discover to find new academic collaboration opportunities
Best practices
Company news
26th August 2021
What is Discover?
Our business philosophy at IN-PART is to be the global matchmaker between academia and industry. And we do this by matching the brightest minds in academia with industry decision-makers striving to make a positive impact. We started making these connections in 2014 through our matchmaking platform, Connect, an online platform that matches university projects and technologies with relevant companies. While the platform works successfully and provides institutes with a route to engage companies worldwide, we received demand from industry for a more bespoke approach to find R&D solutions and academic collaboration opportunities. With this in mind, the idea of Discover was conceived in 2018. It moves flips the 'technology push' approach from universities through Connect, allowing companies to generate a 'market pull' for their exact research requirements across a global network of academics and tech transfer offices.
Discover is a research agnostic scouting service for R&D companies with specific research interests. Essentially, Discover is a mirror on the Connect matchmaking model and allows the industry innovation teams to leverage our embedded relationships across 1,400+ institutes to find the best partners for academic collaboration.
How do Discover campaigns work?
The Discover process follows four main steps.
Industry R&D teams work with one of our STEM-qualified dedicated account managers who helps to define their research requirements. The summary of research interests is presented in the campaign document in one of two styles, a 'Industry Call for Opportunities' or a 'Request for Proposals'.

Once the campaign is launched, the campaign document is sent to all 250 subscribed universities as well as our embedded network of academics and commercialisation teams in 1,400+ institutes. The subscribed technology transfer offices (TTOs) can submit to any Discover campaign through their university dashboard. Our extended network has a separate academic portal to submit to Discover campaigns. This network does not consist of purely TTOs, but also includes heads of departments, academic groups, and spinout companies.

The campaign is live for 6 weeks and during that time the Discover team processes all the academic submissions in preparation for the final deliverables. These documents are sent to the industry R&D team two weeks after the campaign ends for review.

After reviewing which of the academic collaboration opportunities the company would like to take forward, the Discover team facilitates any introductions to the universities, as well as passing any declines or further screening questions back to the academics.
What outcomes result from Discover campaigns?
At the end of a Discover campaign, the industry team receives a report containing all the opportunities submitted to the campaign. We provide the campaign outcomes in two different formats: firstly as a full PDF summary report which overviews the details of all of the submissions, and secondly the same information is presented in an Excel spreadsheet which the industry team finds very useful for collaborative review.
The volume of submissions received varies between campaigns, which is influenced by a number of factors. The popularity of the research field, how broad the scope of the call is, and whether the call is run anonymously will all affect the final submission number. In the spreadsheet, the client can specify whether they would like an introduction, decline, or further screening questions sent back to the academic and IN-PART will facilitate this. On average, 10-15% of opportunities result in an introduction, with introductions leading to commercialisation opportunities, collaboration and direct project funding.
The benefits of using Discover to find academic collaboration opportunities
Since our Discover scouting tool is research agnostic, we work with companies of various shapes and sizes across a range of different industries, from life sciences to pharmaceutical and physical sciences. The main advantage of Discover for clients is the ability to hone and define their research requirements, tailoring the campaign to their individual needs.
Discover's business model encourages universities to sign up and submit to campaigns completely for free, ensuring that we have a high level of engagement within each campaign across our extended network. This allows Discover to find unique opportunities outside of traditional patent or publication searches. The industry R&D teams we have worked with find Discover useful for identifying new academic collaboration opportunities. Many of our campaigns are returning companies, resulting in 80% of campaigns launched this year so far have been with repeat clients, including Johnson & Johnson, Takeda, Reckitt and Astellas.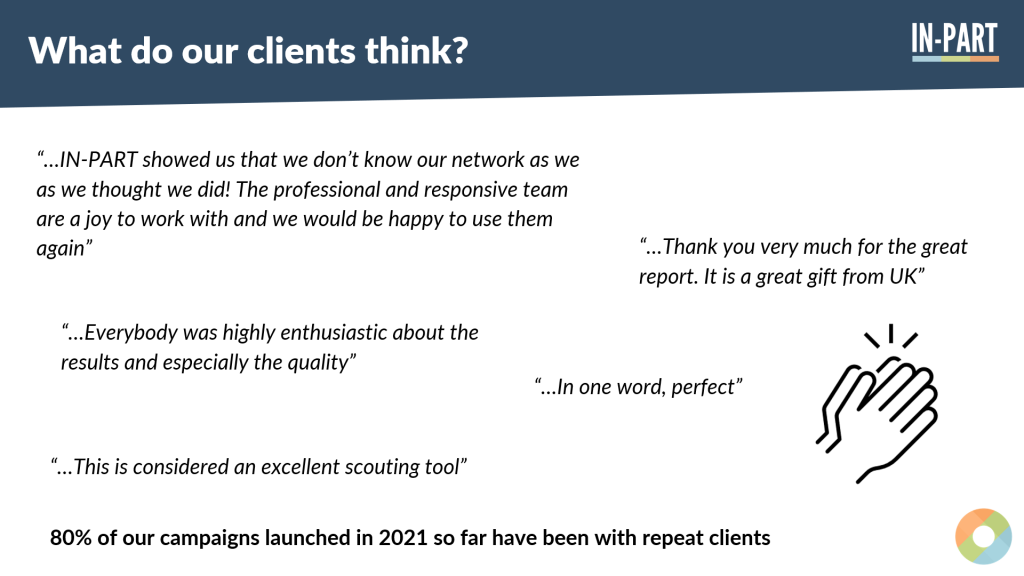 ---
Learn more information about Discover on our website.
And if you are interested in receiving a demo of our Discover service, please contact nicholas.spirit@in-part.co.uk.
---
Written by Chloe Allen. Edited by Katie Syddall and Ruth Kirk.
Copyrights reserved unless otherwise agreed – IN-PART Publishing Ltd., 2021: 'Using Discover to find new academic collaboration opportunities'
---
About IN-PART:
We believe brilliant connections can solve real-world problems. We match research pioneers from academia with decision-makers in industry sectors striving for a greater positive impact.
Our goal is to enable connections from around the world to match academic research with industry on a level playing field. Through our intelligent, matchmaking platform we showcase leading university innovations and connect academics with an international community of decision-makers in industry, creating meaningful dialogue and partnership.
IN-PART, a digital partnering platform for university-industry collaboration.
250+ universities and research institutes around the world currently showcase their research and innovation on IN-PART to find new collaboration partners in industry. R&D teams get free access to the platform (create an account here). There are no hidden costs and we don't claim downstream success fees.
Discover, a bespoke scouting service for open innovation.
Through Discover, corporate R&D teams can leverage our extended academic network, which reaches multiple teams across 1,200+ universities and research institutes worldwide. In response to a specific research requirement or challenge, Discover enables R&D teams to identify new opportunities for commercialisation or to solicit proposals for new research.
Interested in speaking with our Discover team? Request a demo |  TTO or academic? Sign-up for weekly Discover emails.
Image Credit: Luke Stackpoole / Unsplash License